It is rumored that Samsung Wearable Glasses Gear Glass will be launched next year
Recently, according to the founder of the Russian Mobile-review website "Erenda Motakin", Samsung is currently developing wearable glasses like Google Google Glass Glass, and is expected to launch in April and May next year.
At present, the market for wearable devices is very popular. Many well-known manufacturers, including Apple and Samsung, intend to launch products similar to wearable glasses and smart watches. And from the past predictions and reports of Samsung products, the news of the Russian website is still very reliable.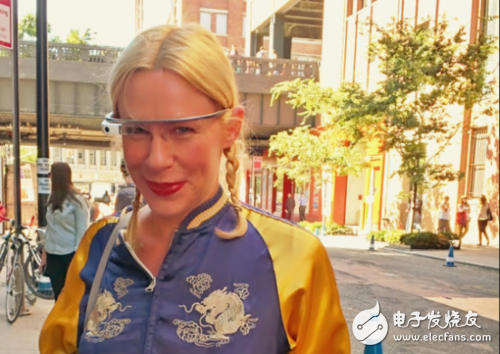 Samsung may launch wearable glasses Gear Glass in April and May next year (picture from Mobile-review)
However, Russian Motakin did not disclose what platform Samsung Wearable Glasses uses. According to industry speculation based on Samsung's habits, it is likely to pre-install the Android system, because it can achieve the goal of making all devices seamlessly connected.
Some sources also revealed that Samsung Gear Glass will be unveiled as early as the US CES Technology Show in early 2014, and boldly speculated that to seize the market, its price will be lower than Google Glass.
Microsoft negotiates purchase of wearable company ODG
According to reports, in addition to Microsoft, Google, Samsung and LG are interested in acquiring ODG, but Microsoft's "offensive" is the most violent. At present, the acquisition negotiations between the two parties have not ended, but some details are still under discussion, including the number of patents transferred and personnel arrangements.
It is understood that ODG is located in San Francisco, USA, and is a long-term contractor of the US military. ODG has signed contracts with the military valued at between US $ 40 million and US $ 50 million over the past few years. The US government is one of the company 's major customers. It is reported that ODG is also currently developing a pair of glasses that use the Android operating system.
In addition to the strategic fit, Microsoft also values ​​ODG's patent portfolio. It is reported that ODG's patent relates to "all products related to Google Glass and other wearable devices."
Development and Reform Commission releases special notice on 4G industrialization
The General Office of the National Development and Reform Commission has recently issued a special notice on the organization and implementation of the 2013 industrialization of mobile Internet and fourth-generation mobile communications (TD-LTE). The notice pointed out that in order to speed up the research and development and application of key mobile Internet technologies and cultivate backbone mobile Internet enterprises with a certain scale, China will focus on supporting the research and development and industrialization of wearable devices for mobile Internet, and the development and industrialization of high-speed broadband wireless access equipment And other aspects of construction.
It is understood that the focus of the fourth generation mobile communication industrialization construction includes the following 8 aspects:
1. R & D and industrialization of new application systems for mobile intelligent terminals. For mobile Internet application services and new interactive experiences, develop new mobile intelligent terminal application systems with independent intellectual property rights, including application engines and supporting cloud service systems, support new human-computer interaction technologies and mainstream mobile Internet applications, and support major operations The system has a safe and credible user information management capability to achieve large-scale application of application systems.
2. R & D and industrialization of wearable devices for mobile Internet. For mobile Internet applications, develop large-scale commercial multi-type wearable devices, focusing on supporting the development of low-power wearable device system design technology, new human-machine interaction technology and new sensor technology for wearable devices, wearable devices and The interconnection and sharing technology of smart terminals, wearable device applications and supporting supporting system technology realize the industrialization of wearable device products.
3. Construction of mobile internet and smart terminal public service platform. Supported by third-party testing agencies, and joint upstream and downstream enterprises in the industrial chain, making full use of existing foundations, facing the key links of new mobile Internet business applications and smart terminals, and developing mobile Internet and smart terminal public service platforms The testing and evaluation capabilities of the link and the monitoring and service capabilities of the industry chain provide effective support for the healthy and rapid development of the mobile Internet industry.
4. Development of mobile intelligent terminal and construction of industrialized environment. Support related enterprises to build and upgrade smart terminal development comprehensive testing based on the established mobile smart terminal development environment, with the goal of achieving new, high-end and large-scale development of multi-mode and multi-frequency smart phones for the fourth generation of mobile communication Conformance testing, production and testing environment.
5. R & D and industrialization of high-speed broadband wireless access equipment. Develop secure high-speed broadband access and control equipment that meets scale coverage applications, and support centralized management and service differentiation of access points. Support high-speed reliable communication above 1Gbps, support multi-frequency, and support non-perception authentication of user identity based on digital certificate.
6. R & D and innovative application demonstration of high-speed broadband wireless access technology. Develop high-speed wireless LAN equipment test technology, build system interoperability test platforms, study high-speed broadband wireless access application technologies in important industries such as transportation, medical, aviation, and LTE government networks, and carry out related technology experiments and innovative application demonstrations.
7. R & D and industrialization of key technologies for mobile internet big data. Develop multi-source data collection technology based on mobile Internet, massive heterogeneous data management and real-time data mining technology, efficient resource management and analysis technology, etc .; develop mobile big data application products and apply them to application stores, mobile search, mobile Business and other fields; encourage the construction of mobile big data development platforms.
8. Demonstration of industry innovative applications based on TD-LTE. Support the application of TD-LTE technology in emergency communications, energy, government affairs, medical care, public security and other fields, through the TD-LTE public mobile communication network or industry-specific network (including TD-LTE cluster system), build a business application innovation experience environment to achieve The coverage of key areas will establish a scalable and innovative demonstration application solution for TD-LTE industry applications and drive the development of the TD-LTE industry.
High Quality Solar Motion Sensor Light,Solar Motion Sensor Light Details,Motion Sensor Integrated Solar Light ,Solar Garden Light
jiangmen jieken lighting appliance co.,ltd , https://www.jekenlighting.com