2013 was the most intense year of the mobile phone chip war. On the one hand, the nuclear war is still continuing, on the other hand, with the continuous evolution of 4G LTE network technology, the demand for 4G LTE chips in the terminal market is also growing rapidly as operators 'capital investment enters a new round of peaks. This has prompted mobile phone processor manufacturers to step up the pace of R & D on LTE chips, especially multi-mode and multi-band LTE chips, and are active in the card market or acquiring competitors.
The China Research Special Report from IHS predicts that from 2013 to 2017, the total capital expenditure on LTE wireless infrastructure will reach 26.9 billion US dollars. By the end of 2017, China Mobile will deploy 600,000 TD-LTE base stations, and China Unicom will obtain an LTE FDD 1800 megahertz (MHz) license and establish approximately 300,000 base stations. In addition, China Telecom will obtain an LTE TDD / FDD license in the 2600MHz / 2100MHz frequency band and will establish 400,000 base stations.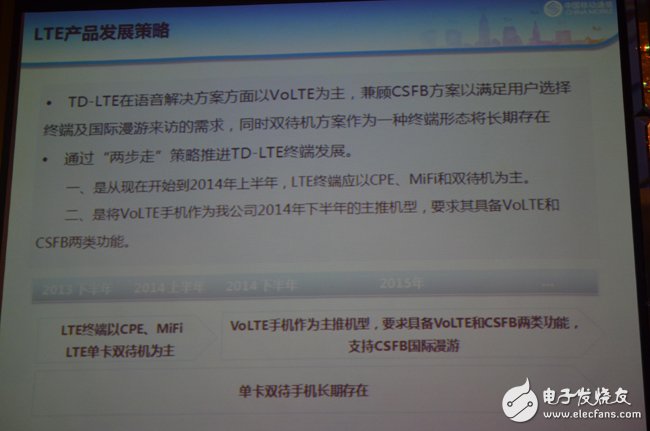 China Mobile LTE terminal development strategy, August 2013
This year, although China Mobile has not obtained an LTE license in 2013, the company plans to invest $ 5.7 billion in TD-LTE. China Telecom plans to provide US $ 1.6 billion in subsidies to develop LTE. At the same time, although China Unicom has not considered the LTE budget in its initial capital expenditure plan, if it can obtain an LTE license before the fourth quarter of this year, it will add LTE investment.
On September 11, Zhang Xiaoqiang, deputy director of the National Development and Reform Commission, revealed at the 7th Summer Davos Forum that in order to drive the consumption of information products including mobile phone networks and mobile communication products, 4G licenses will be issued soon. According to analysis, the 4G licenses to be issued this time are most likely to refer to TD-LTE licenses. News from operators is more positive. China Telecom has issued tenders for LTE (including TD-LTE and LTE FDD) to many telecommunications equipment manufacturers on September 6.
This information indicates that LTE construction will be a major theme for the communications industry throughout the second half of 2013 and 2014. As the LTE network quickly enters the commercial market, the demand for LTE chips from terminals will quickly become hotter. Whoever owns LTE will have a place in the highly competitive mobile phone chip market in the future. In fact, Qualcomm, Broadcom, MediaTek, Content, Lianxin Technology, Intel, Nvidia, Spreadtrum, HiSilicon and other domestic and international leading manufacturers are all deploying multi-mode and multi-frequency technologies in the coming new round of smartphone war Take the lead.
Acquisitions affect market territory
Although there are many manufacturers supplying 2G / 3G baseband processors in large quantities, processors supporting 4G LTE until 2012 are rare. At present, with the active promotion of 4G LTE deployment in mainland China, North America, and Asia-Pacific markets, and the launch of 4G licenses in Taiwan, the time for manufacturers to release chips is ripe.
As a leader in the industry, Qualcomm took the lead in introducing multi-mode and multi-frequency 4G LTE solutions as early as two years ago, and has occupied a leading position in multiple LTE commercial regions. This year, while China Mobile is fully promoting TD-LTE, Qualcomm has also joined hands with China Mobile to enter the TD market ahead of competitors in LTE nodes.
Competitors are not willing to show their weakness, and have launched new products. Content Technology has newly launched the PXA1088 LTE chip, which is the industry's first quad-core "5-mode 13-band" Category 4 LTE single-chip solution for the mass market. Lianxin has also launched the four-mode eleven-band TD-LTE / LTE FDD / TD-SCDMA / GGE baseband chip LC1761.
In the face of the upcoming 4G market, Intel will also provide leading low-power, global modem solutions that can support multiple frequency bands, multiple regions, and multiple devices as its important strategy. It has launched a single RF chip and supports 15 The XMM7160 multi-band multi-mode platform in the FDD-LTE band has been launched on the market in 2013 and won international first-line OEM orders.
At present, Qualcomm is the most mature 4G LTE full-mode chip (G / G / E / W / TD / TD-LTE / FDD) solution, followed by Ericsson, followed by Huawei 's HiSilicon. From the perspective of shipments, Qualcomm and HiSilicon are the top 2 manufacturers of LTE chip global shipments. Both chips are doing well, and they are also close chip partners on Huawei terminal company LTE. HiSilicon chips have also been shipped on a large scale in global markets such as Japan, Europe, China, Asia Pacific, and Latin America.
However, the competitive landscape that originally contended with hundreds of schools is changing. Intel acquired Fujitsu Semiconductor Wireless Products in July, a subsidiary of Fujitsu in Arizona, USA, that specializes in high-end multimode LTE RF transceivers. Intel will use this to enter the field of mobile communication transceivers and obtain an excellent independent RF design team.
In September, Broadcom also announced that it has spent $ 164 million to acquire Renesas 'LTE-related assets, including a dual-core LTE SoC, which is ready for mass production and has been verified by mobile operators. Broadcom also received a multi-mode multi-band LTE-A / HSPA + / EDGE modem IP, which includes support for carrier aggregation and VoLTE. Broadcom said that the acquisition is expected to accelerate the time to market for its first multi-mode, carrier-verified LTE system-on-chip platform to early 2014, consolidating its position in the rapidly growing LTE market.
The industry is also rumored that MediaTek is also secretly targeting a European LTE chip manufacturer. After two consecutive acquisitions, Intel and Broadcom's full-mode products will soon be commercially available, but Nvidia, Spreadtrum and ZTE will have some time.
Sun Changxu, chief analyst of "International Electronic Business", analyzed that this acquisition will make 4G LTE chip manufacturers more concentrated. The two LTE vendors that were acquired are two stronger companies in LTE RF, and the other 4G RF is powerful. The company is Qualcomm. She commented: "The most difficult part of 4G is RF, and the layout is basically delineated. MTK still needs hard work." It is expected that MediaTek's full-mode LTE baseband chips will be launched in the first quarter of next year, and LTE SoCs with APs will be launched next year. Qualcomm will also launch a low-end LTE MSM8928 SoC in the second half of the year.

Solar Lawn Lamps,Best Solar Lawn Lights,Solar Powered Lawn Lights,Outdoor Solar Lawn Lights
Jiangmen Liangtu Photoelectric Technology Co., Ltd. , https://www.liangtulight.com