Cordless Telephone Frequency:
900 MHz
Answering Machine Record Audio Format:
WAV
Accessories:
Mounting Plate
Color:
Orange or Customized
Wall Mounting or Pole Mounting:
Yes
Analogue, SIP Version:
Optional
Trademark:
J&R or Customer brand
Transport Package:
Pearl Cotton, Carton
Specification:
CE, FCC, RoHs, ISO9001, IP66
IP67 Auto-Dial Explosion-Proof VoIP Telephone JREX101-CB
 
Model No.: JREX101-CB Â Â 
This JREX101-CB IP67 Auto-dial Explosion-proof VoIP Telephone is fully contained within a corrosion resistant cast aluminium weatherproof case which providing complete protection against dust and moisture ingress, resulting in a highly reliable product with a long MTBF.
    Extremely easy to install. The cable entrance is on the bottom of the phone to prevent from artificial damage, while the button is weather and vandal resistant.
   This IP67 Auto-dial Explosion-proof VoIP Telephone is designed for voice communication in the hostile environment where reliability, efficiency and safety are of prime importance. The telephone can handle the large temperature differences found outdoors, high humidity, exposure to sea water and dust, Corrosive atmosphere, Explosive gases & particles, as well as mechanical wear and tear, making it perfect for use as an emergency telephone.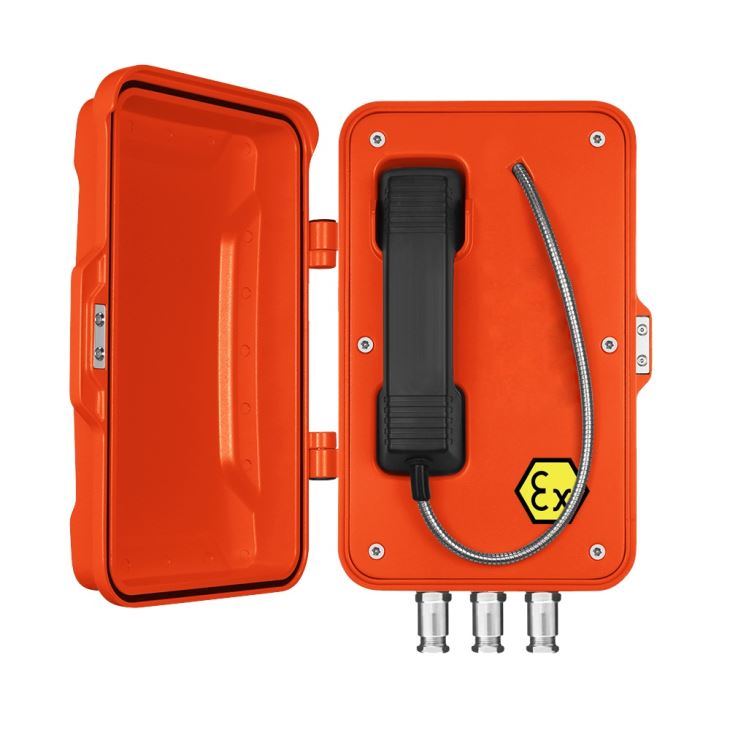 MAIN FEATURES of IP67 Auto-dial Explosion-proof VoIP Telephone 
- Corrosion resistant aluminum alloy die casting housing, available in four colors, with NPT conduit entries and Type 3 / IP67 environmental ratings
- Certificated for use in Hazardous areas of Gas Group IIB/IIA
-Â Zone classification: Zone 1, Zone 2 and Zone 22
-Â Ex 'd' protected
- Intrinsically safe Ex"ib" certified 
-Â Temperature classification:T6
-Â SIP or H323 protocols (Compatible with all PBX'S)
-Â Power supply:Â Power over Ethernet
-Â Fully configurable through any internet browser or the on-board display
-Â Handset with Noise canceling microphone, for effective communication from noisy areas (Armored SS cord stands up to rough treatment, optional for black curly cord )
- Programmable for auto-dial
-Â Hotline Telephone (Automatic Dialer and No-Dial) without keypad
-Â Hermetically sealed non-contact hook sensing switch improves system reliability
-Â Built-in External Ringer that provides penetrating calling signal (85dbA@ 1meter)
-Â Mounting : Wall/column/structural
-Â Captive cover screws prevent loss during installation

Technical Specification:
| | |
| --- | --- |
| Operating Temperatures: | -40°C to + 70°C |
| Relative humidity high | 93% R.H at 40°C (non condensing) |
| Excellent Sound Quality | STI approved to 0.9 (Excellent Sound) |
| Ringing volume | 80 dB(A) in 1m distance |
| Connection | Â RJ45 Ethernet socket through IP67 plug connector. |
| SIP (Session Initiation Protocol) | RFC3261 |
| TR069 (Technical Report 069) | Â for advanced status monitoring and control |
| Quality of Service (QoS) | high throughput and reliability (RFC3168) |
Package
Unit Size: Approx. 204*334*126mm (H*W*D)
Carton Dimension:200 * 300 *440 mm (H * W * D)
Packaging materials: pearl cotton, carton
Net Weight: 7 Kg. 
Gross weight: 8KGÂ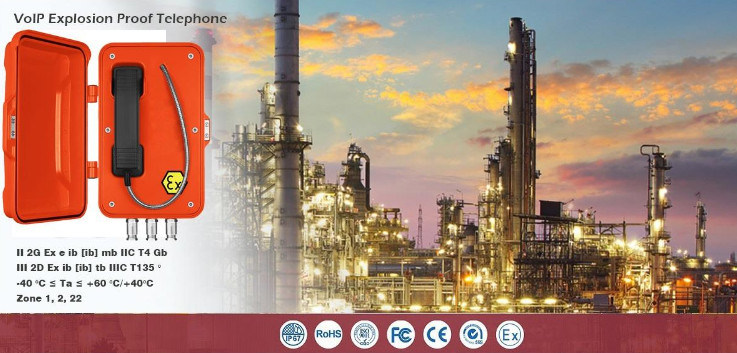 Brightenlux Electric Appliance Co., Ltd , http://www.nb-flashlight.com