Sanan Optoelectronics is a variety of both security and marginality in the electronic stocks. The margin of safety comes from the increasing concentration of the LED chip industry and the gradual release of the company's new capacity. It is expected that Sanan's profit will exceed 2 billion this year and it is expected to continue to grow by 40% next year. The upward elasticity comes from the growth of its compound semiconductor and LiFi business. And the overseas industry mergers and acquisitions supported by CDB, the Big Fund and the Xiamen government.
The LED business provides a margin of safety. Sanan Optoelectronics continues to expand its production in the highly competitive global LED industry. It has gradually demonstrated its scale, technology and cost advantages in the competition between Taiwan, the United States and Japan, and has become the biggest beneficiary of industrial concentration. While LED lighting demand is on the rise, price declines continue to drive penetration. The 32-year-old new MOVCD will be put into production gradually, which will promote the quarter-to-quarter growth of the second half of the year. It is expected that the annual revenue growth rate will reach 2 billion. The remaining 68 MOCVDs will be put into production in 2016 and are expected to boost the 16-year performance by 40%. The company's latest announcement of 126 million acquisition of 100% equity of Air Products (AP) (Wuhu) and 11 sets of ISO containers for Air Chemical (Shanghai) further strengthen the upstream raw material capacity.
Semiconductor endogenous extension, re-create a Sanan. Sanan will build the integrated circuit industry with III-V semiconductors such as gallium arsenide and gallium nitride as the core, and plans to build an annual output of 300,000 GaAs and 60,000 GaN 6-inch production lines. At present, Sanan's 5,000-unit/month GaAs Phase I has already started trial production. It is expected to be mass-produced next year, and GaN production line equipment is gradually in place. Future military, Internet of Things, 5G communications and other strong demand for compound semiconductor RF and power chips will reignite in the compound semiconductor market after 4G. And through the large fund of 4.84 billion shares and invested 2.5 billion US dollars and Sanan joint venture III-V compound integrated circuit development special fund, CDB low-interest loans of 20 billion yuan, Sanan Group will have 40 billion yuan of funds available, through overseas Mergers and acquisitions as a lead in compound semiconductors deserve special expectations. The company's latest announcement of CDB's 140 million annual interest rate of 1.2% low-interest loans has been loaned to Sanan Integration by Sanan Group. In addition to the previous military and automobile business orders and subsidies, the national team policy dividends are gradually reflected.
Optical communication is another potential growth point. In addition to LEDs and compound semiconductors, optical communication optoelectronic chips are another growth point for the company and are expected to contribute hundreds of millions of revenues in 2016. Sanan and Shanghai Aerospace Electronics and Communication Equipment Research Institute announced in July that they will jointly develop and promote indoor and outdoor LED intelligent lighting communication (LiFi) products, vehicle networking system products, photoelectric intelligent monitoring products and other integrated circuit applications, and in the field of optical communication. A solid step.

Speakers with working frequency response range from 20~150Hz are called full range speakers.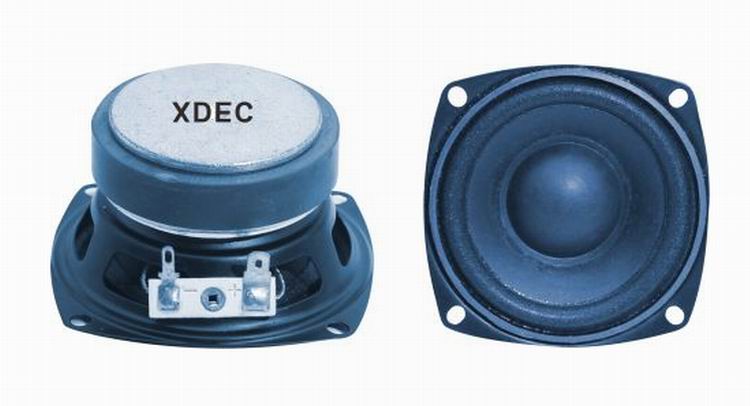 FAQ
Q1. What is the MOQ?
XDEC: 2000pcs for one model.
Q2. What is the delivery lead time?
XDEC: 15 days for normal orders, 10 days for urgent orders.
Q3. What are the payment methods?
XDEC: T/T, PayPal, Western Union, Money Gram.
Q4. Can you offer samples for testing?
XDEC: Yes, we offer free samples.
Q5. How soon can you send samples?
XDEC: We can send samples in 3-5 days.
Subwoofer
Subwoofer Speaker,Car Subwoofer,Wireless Subwoofer,Home Subwoofer
Shenzhen Xuanda Electronics Co., Ltd. , https://www.xdecspeaker.com