They all said that "there is heaven, there are Suzhou and Hangzhou." On July 19, 2010, the 2010 LED Illumination China Tour, sponsored by Gaogong LED and 12 regional industry associations, came to the second stop "Hangzhou".
On the same day, the seminar was successfully held by Gaogong LED and Zhejiang Lighting Association, Hangzhou LED Industry Association and Ningbo Lighting Association in the conference hall on the 9th floor of Zhongbei Hotel, No. 500 Zhongshan North Road, Hangzhou. The meeting held a heated discussion on the hot topics of the current LED industry and the development of the LED industry in Zhejiang.
The conference attracted more than 150 spectators, including senior management and government agencies from LED companies in Zhejiang. At the meeting, Gaogong LED Zhang Xiaofei, Zhejiang Lighting Electrical Appliances Association Weng Maoyuan, Zhongjing Kechuang Zhongqun, Yuanfang Optoelectronics Pan Jiangen, Zhongke Wanbang He Wenming, Ruifeng Optoelectronics Gong Weibin, Philips Lumileds Zhou Xuejun, and Taxation China Li Wei gave a wonderful speech. .
Gaogong LED CEO Zhang Xiaofei
In the speech, Zhang Xiaofei, CEO of Gaogong LED, deeply analyzed the current situation of LED lighting and traditional lighting in the market and the situation of traditional lighting companies involved in the LED industry. Zhang Xiaofei pointed out that the war between LED lighting and traditional lighting has just started, and the next ten years will be a protracted war. The victory and defeat are completely in the hands of all enterprises. With the rapid expansion of LED lighting, LED lighting gradually replaces traditional lighting irreversible, time is always Will stand on the side of LED lighting.
Zhang Xiaofei believes that traditional lighting enterprises have reached maturity, with strong capital accumulation, strong manufacturing capabilities, and strong sales channels. LED lighting cannot ignore these advantages of traditional lighting companies. LED lighting companies need to acquire capital and master core technologies. Seeking a strategy of open cooperation, it is necessary to go through three major battles - the talent war determines the survival of the enterprise, the merger war determines the future of the enterprise, and the capital war determines the market structure, in order to achieve the victory of the traditional lighting war.


Fahold, a 8 year old company brings light power to your life by illuminating your offices, factories, warehouses, shopping malls, airports, etc. with its high quality LED Linear lighting products and solutions. LED Linear lighting springs out few years ago, we see the power of the linear lighting solutions, so over the years, we have been innovating our Utra Slim Driver for these type products to give you healthy low carbon environment with low energy consumption. Application: LED Light boxes, led linear lights, led troffer ect.
LED Linear lights driver Specifically for linear lights,indoor driver for non-waterproof,Constant Current with aluminum/iron casing, with the dimming function of 0-10V/PWM/RX/dali. Flicker free and SELV Safety output design, UL/FCC/TUV/RCM/CB/CE Certified. Europe and North America market.
Parameter:
Input Voltage:100-277V/100-240V
Output voltage: 25-40V/ 12V / 24V
Current: 100-1800mA / 2500mA / 5000mA
Power factor: >0.95
THD: <15%
Dimming: 0-10V/PWM/RX/Dali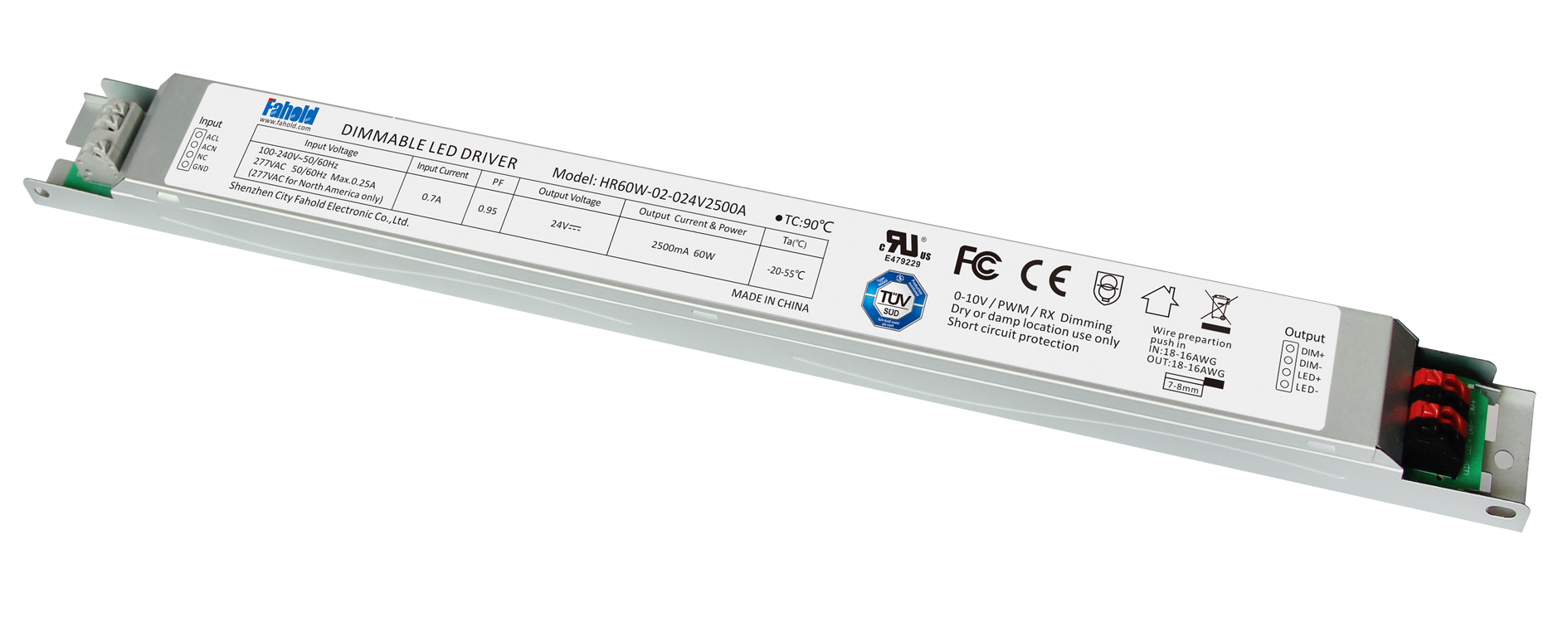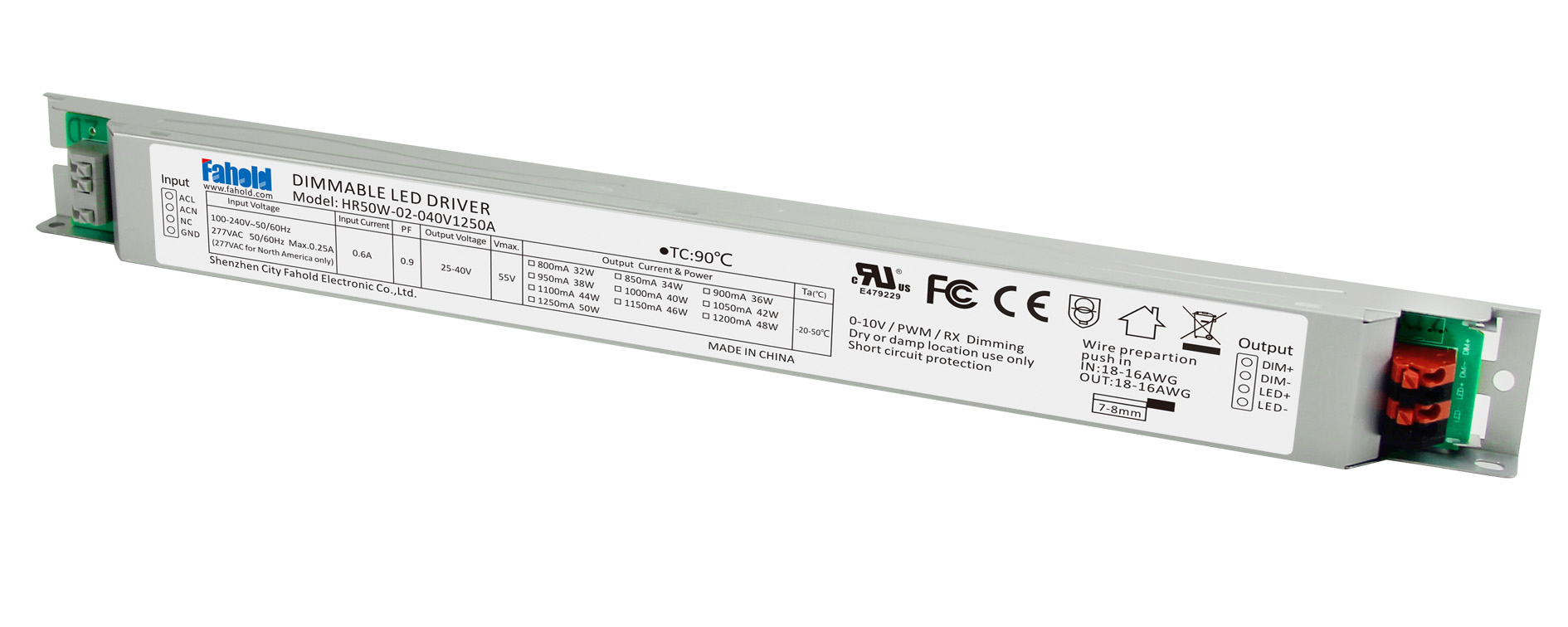 FAQ:
Question 1:Are you a factory or a trading company?
Answer: We are a factory.
Question 2: Payment term?
Answer: 30% TT deposit + 70% TT before shipment,50% TT deposit + 50% LC balance, Flexible payment
can be negotiated.
Question 3: What's the main business of Fahold?
Answer: Fahold focused on LED controllers and dimmers from 2010. We have 28 engineers who dedicated themselves to researching and developing LED controlling and dimming system.
Question 4: What Fahold will do if we have problems after receiving your products?
Answer: Our products have been strictly inspected before shipping. Once you receive the products you are not satisfied, please feel free to contact us in time, we will do our best to solve any of your problems with our good after-sale service.

LED Linear Lights Driver
Linear Lighting Driver,Utra Slim Driver,Ul Dimmable Driver,Led Light Box
ShenZhen Fahold Electronic Limited , http://www.fahold.com