First of all, we need to know a common sense: If the lamp power is 1000 watts, use it for 1 hour.
Therefore, the power of the appliance is directly related to energy saving, and the less power, the more power is saved.
Unit Description:
One kilowatt hour is equal to 1000 watts / 1 hour, equal to 1000 watts × 3600 seconds = 3600000 watt seconds = 3600000 joules
One joule is one watt second

Electrical work: The work done by current is called electric work.
Electric power: In physics, electric power is used to indicate the speed of energy consumption. The electric power is represented by P, its unit is watt, referred to as watt, the symbol is W.
1KW=1000W
As a physical quantity indicating that the energy consumption is full, the power of one appliance is equal to the power consumed by it in 1 second (1S). If the electric energy "W" is consumed in such a long period of time "t", then the electric power "P" of the electric appliance is P=W/t
Symbol meaning and unit W—electric energy—Joule (J)
T-time-second(s)
P—power of the appliance—Watt (W)
Rated power: The power of the appliance at the rated voltage is called the rated power.
First, the electric power. The amount of energy converted into other forms of energy per unit time is called electric power. The unit is expressed in watts (W), referred to as watt. The amount of electric energy converted into other energy in a period of time is called electric work. Usually called electric energy (Q). Use ''degree'' to indicate 1 degree of kilowatts multiplied by 1 hour. For example, electric light, marked as 60W, that is, the power is 60 watts, this light is lit for one hour, then this light In terms of electric energy, it takes one hour to convert electricity into light and heat. How much is it? Q=W*T 60W*1 hour=0.06 degrees.

Joule: unit of energy, work, heat (J); 1 work of the action point of Newton force moving in the direction of force by 1 meter distance, ie 1J=1N·m
Calories: Calories are also called cards, and 1 card is about 4.182 joules. Kcal = calorie kcal = big card 1 kcal = 1000 card 1 kJ = 1000 joules 1 kcal / 1 kcal / 1 calorie (kcal) = 4.184 kJ (kJ)
Calories of food: black sesame 531 kcal / 100; sesame (white) 517 kcal / 100
18.5 Inch All in One Touch PC main data:
1. Display: 18.5 inch Projected Capacitive Touch Screen
2. Aspect Ratio: 16:9
3. Max. Resolution: 1366 * 768
4. Dot Pitch: 0.3×0.3 mm
5. Contrast Ratio: 700:1
6. Brightness (nits): 250
7. Display Color (Max): 16.7M
8. Viewing angel:75º/75º/60º/60º
9. OSD language: English
10. Configuration:A64 Main board,RAM: 1G (Standard); ROM: 8G (Standard)
11. Ethernet port: 10/100M adaptive RJ45 port*1
12. USB port: USB HOST*2 (Main board*1; Mini board *1); USB OTG*1
13. Input power:110~240V 50HZ/60HZ
14. Rated power:<50W
15. Assembling: Bracket (Standard)
Optional:
Main board: A83
RAM: 1G (2 GB, 4GB optional)
ROM: 8G (16GB, 32GB optional)
Built-in high fidelity speaker(8Ω5W*2)
Camera: 500M pixel (Wide viewing angel)
Assembling: VESA wall mount
Functional Characteristics
1. Video synchronization: Audio and video synchronization; Program fast switching.
2. Deployment management: Distributed deployment; Centralized management.
3. Real-time play: Real-time setting and modification of audio and video, pictures, text and multimedia contents.
4. Full support: Various conventional audio and video formats and support for 1920 * 1080 HD display.
5. Multiple subtitles: Support Chinese and English rolling subtitles; Multi subtitles scroll direction and mode selection.
6. Program customization: Control program play list and play mode by program.
7. Easy playing: Support local downloading and streaming media playback mode.
8. Smart play: The player will automatically play the specified program list, which will support the timing of dormancy and recovery.
9. Support network: Multiple ways like Ethernet, 3G or wireless network.
10. Remote management: Remote program transmission and management which can monitor the working status of a large number of players in real time.
11. Remote upgrade: Support OTA remote upgrade without technical personnel to the player terminal to operate
12. System: Original ecosystem Android5.1 or above system; Open root access, can be customized for development
13. High integration: Set an LVDS/USB/WAN/HDMI/VGA/CVBS/SATA/WIFI/WCDMA; Simplify the machine design; Support insert SD card and connect SATA hard disk.
14. High definition: Support LVDS signal lcd display with or below resolution of 1920*1080. Better demodulation of various input signals, including powerful audio and video processing functions which an output high-quality images and sound quality.
15.
Super video codec:
Supports Full HD ( 1920*1080p ) video decoding; Supports AVI, MPG, RM, RMVB, FLV, MP4, VOB, WMV, MKV and other formats.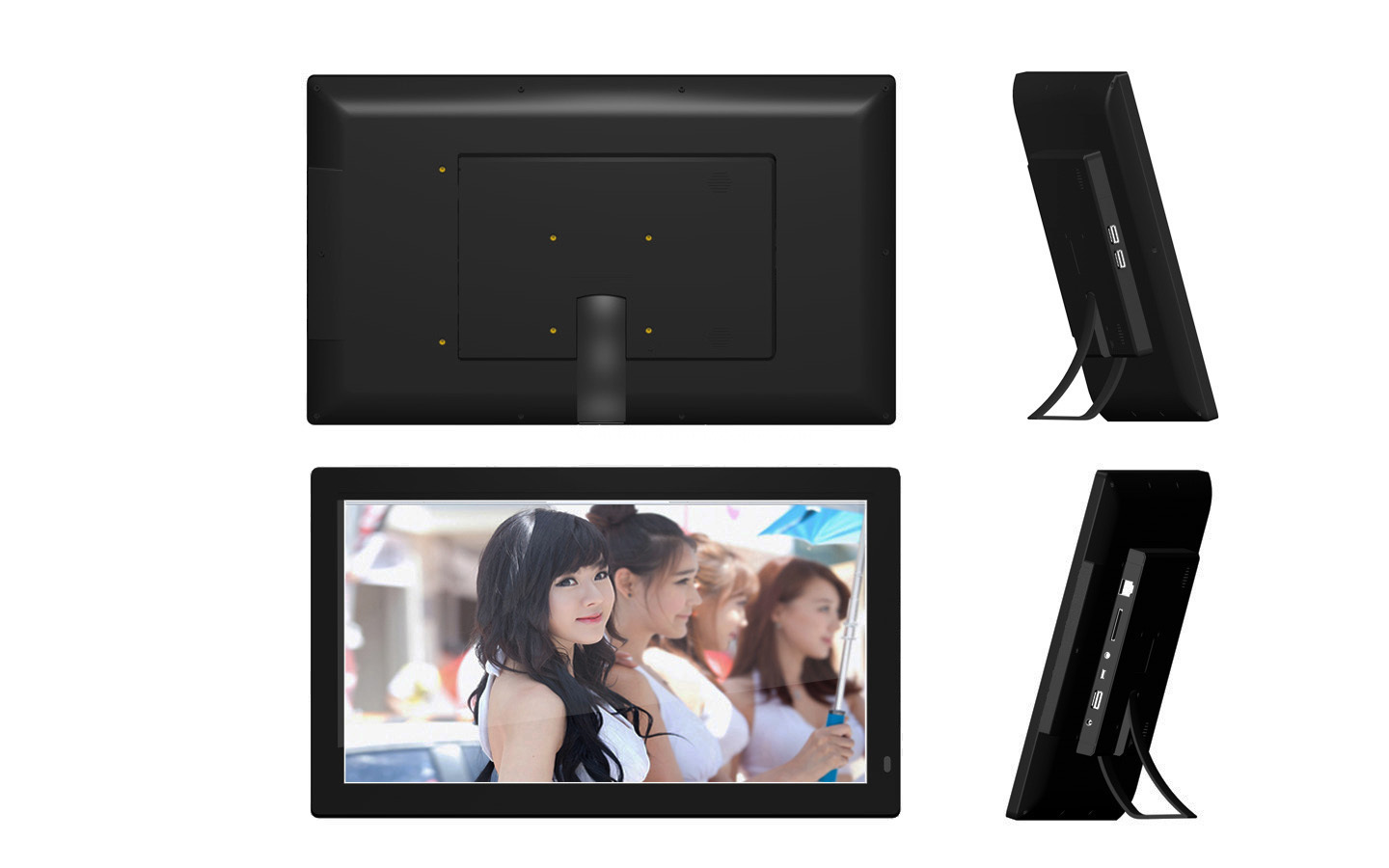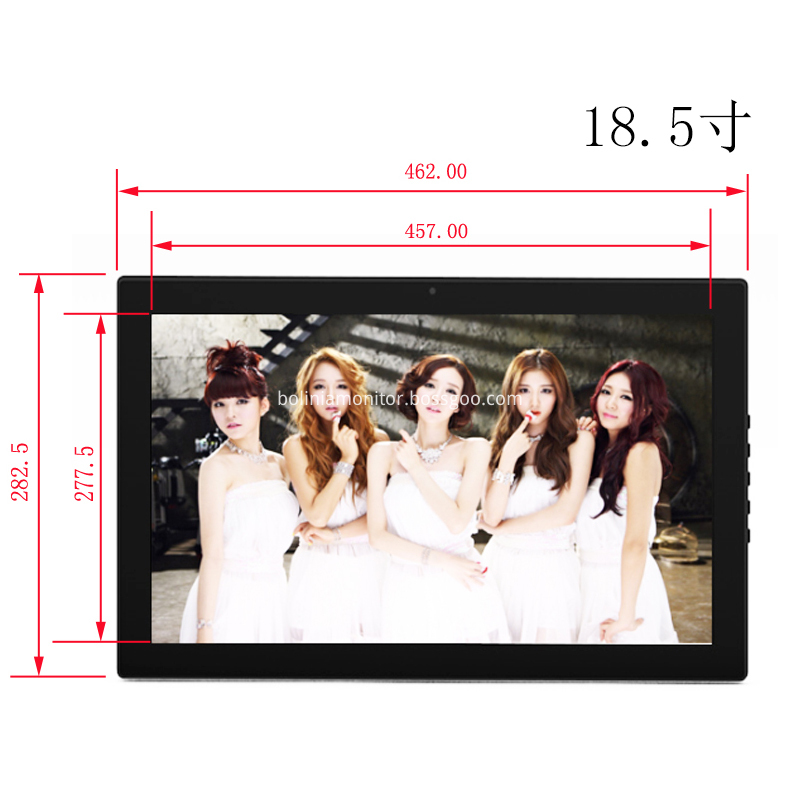 Other sizes tablets are 10.1 inch, 13.3 inch, 15 inch, 15.6 inch, 18.5 inch, 21.5 inch, 23.8 inch, 24 inch, 27 inch and 32 inch.
Some of them are with IPS panels.
Please contact with us for details.
Shenzhen Bolinia Technology Co., Ltd. is a manufacturer for 7-24 inch lcd monitors and displays over 10 years. Original factory with assembling line in Shenzhen. Product ranges from plastic monitor, Metal Monitor , resistive touch monitor, Capacitive Touch Monitor, Open Frame Monitor , Embedded Monitor to SDI broadcasting monitor. Square monitor or wide screen monitors are available with different resolutions. Newly launched 10.1-32 inch All In One PC and portable LCD monitors.

Plastic or metal casing monitor from 7 inch to 24 inch.
Single Touch Monitor with resistive 4 wire and 5 wire for options from 7 inch to 22 inch.
Multi-touch projected capacitive touch ( PCAP Touch or PCT) monitor from 8 inch to 24 inch.
SDI monitor from 15 inch to 21.5 inch.
High Brightness Monitor from 10 inch to 22 inch.
Mirror Image Monitor with size: 8 inch, 9.2 inch, 10.4 inch, 12.1 inch, 15 inch, 17 inch, 19 inch, 20.1 inch and 22 inch.
All in One PC with Android system with 10.1 inch, 13.3 inch, 15 inch, 15.6 inch, 18.5 inch, 21.5 inch, 23.6 inch, 24 inch, 27 inch and 31.5 inch.
Portable LCD Monitor with 12.5 inch , 13.3 inch and 15.6 inch.

Products mainly used in ATM, POS, CCTV security, Information checking, Kiosk, BGA repairing station, Lottery terminals, microscopes and similar applications. Portable LCD monitors perfectly compatible to PS4/PS3/PS2/Xbox ONE/Xbox 360, game consoles, PCs, Macs, Raspberry Pi, laptops, cameras and tablets.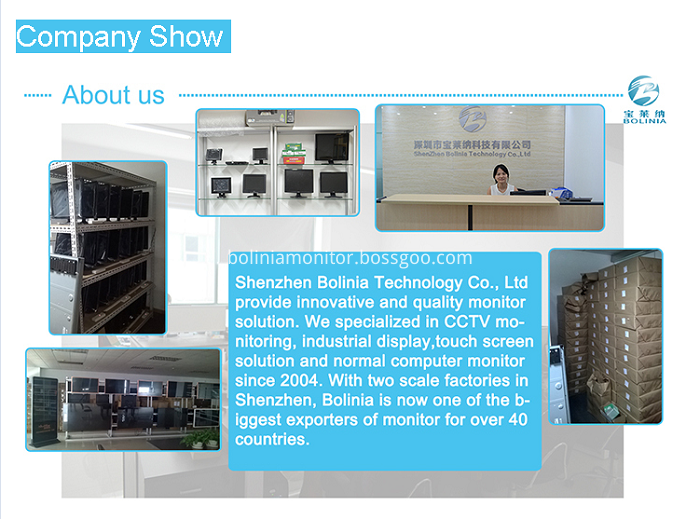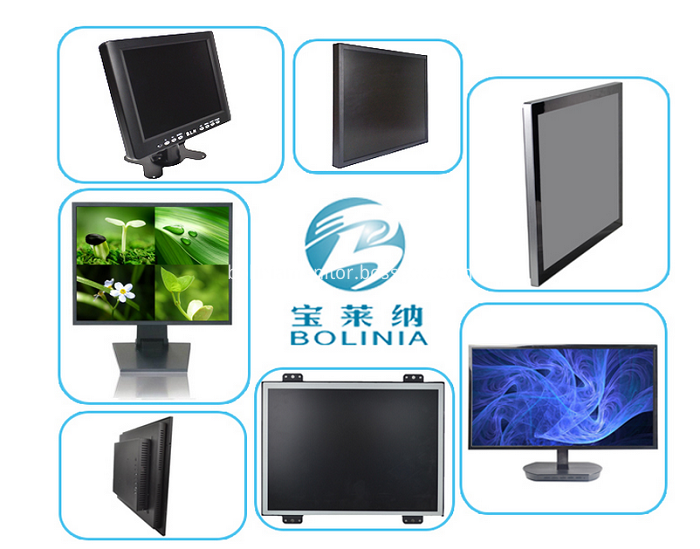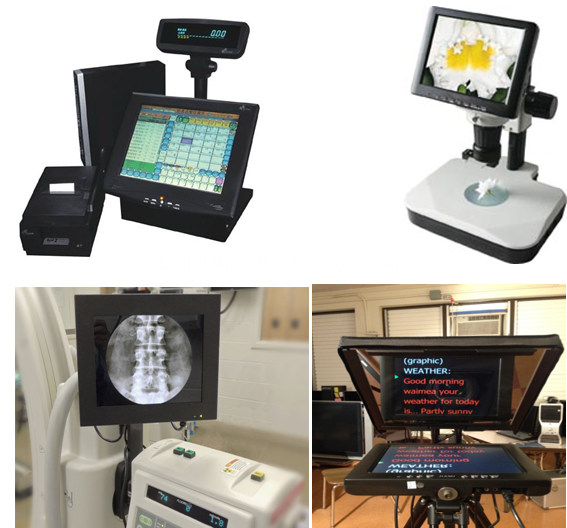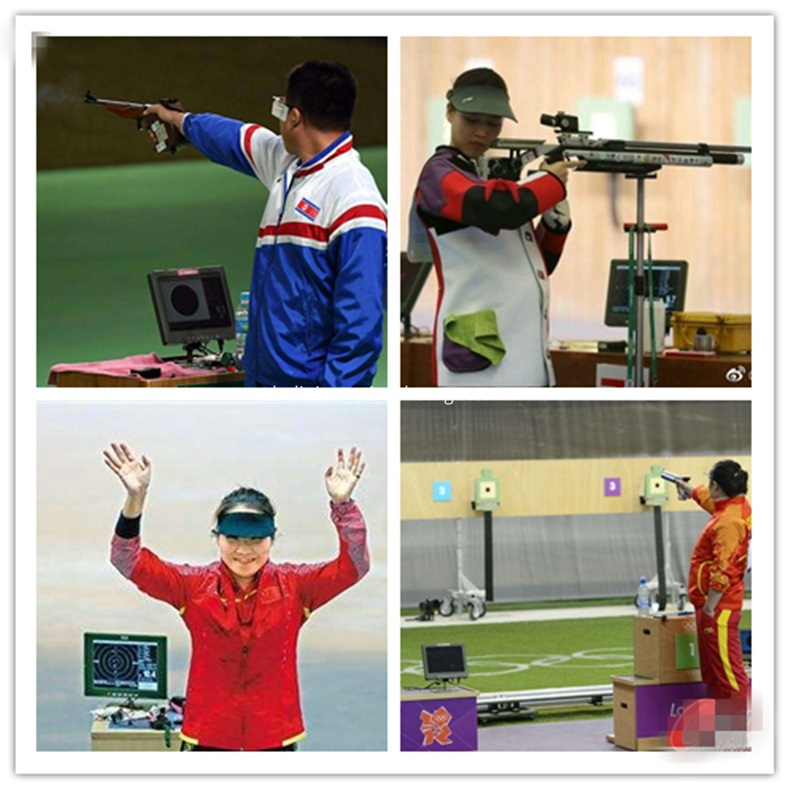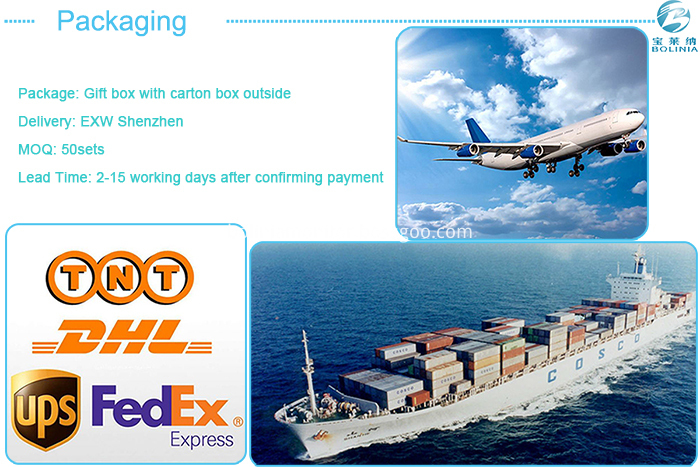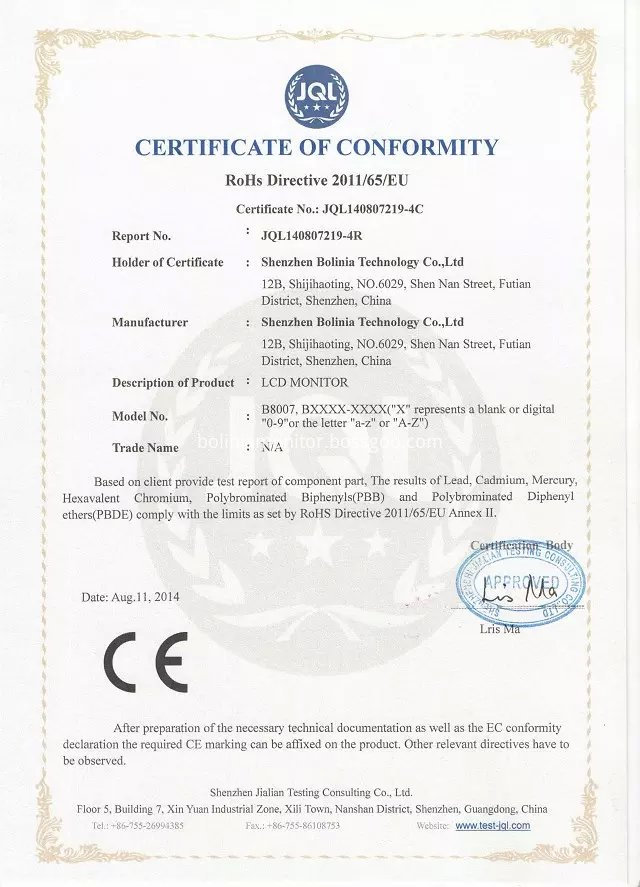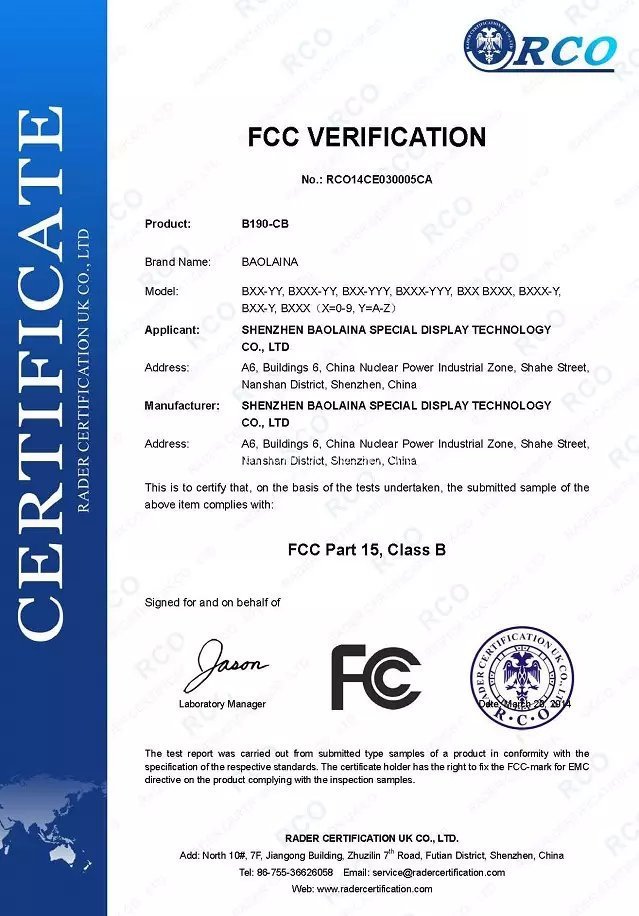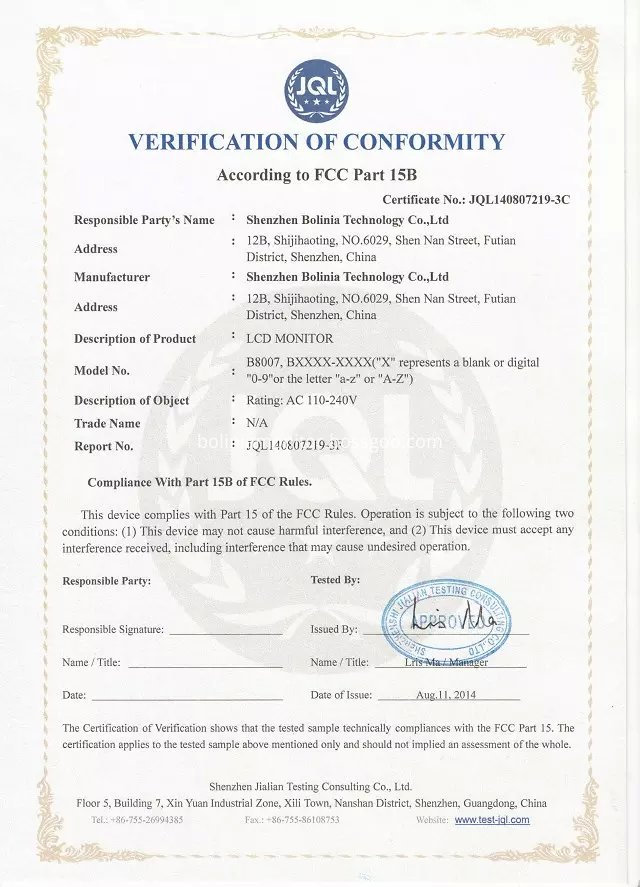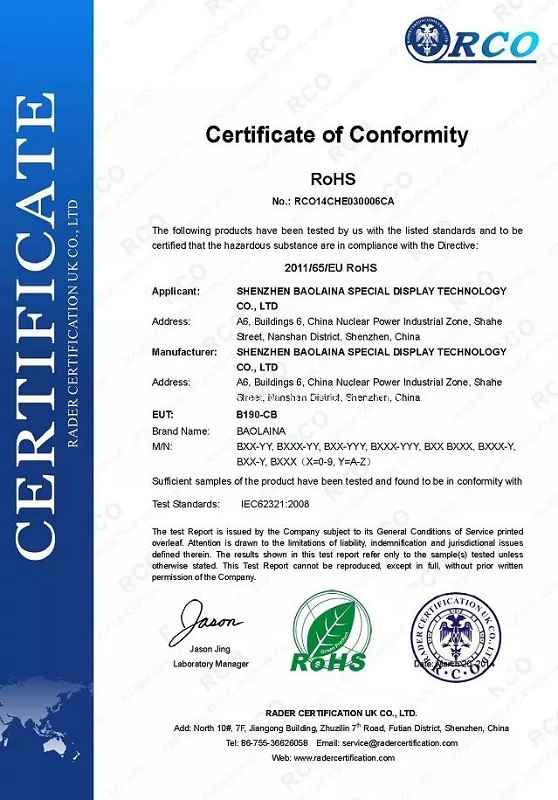 18.5 Inch All In One PC,18.5 Inch Tablet,Android Touch PC,Android Tablet PC
Shenzhen Bolinia Technology Co., Ltd. , http://www.bolinia.com