As an emerging green lighting source, semiconductor lighting is gradually entering various fields of people's lives. Transportation lighting has become an important application market for LED as an illumination source. At the 2010 Shanghai International New Light Source & New Energy Lighting Forum's "New Light Source and Transportation Lighting Transformation" summit, guests from the semiconductor lighting field and LED related applications companies The application of semiconductor lighting in tunnel lighting, rail transit lighting, automotive lighting, etc. has been heatedly discussed, and the good development prospects of various markets have become the focus.
At present, LEDs have been applied to the interior and exterior of automobiles. "Especially in automotive interior lighting, the application of color LEDs is very mature, such as for instrument panels, backlight switches, car reading lights or head-up display systems, or cars. The 'Color-on-Demand' feature allows automakers to differentiate themselves from other competitors by using their own unique color, or to use color to distinguish between different series of products." OSRAM Optoelectronics Zhong Jiecong, Marketing Director of Asia Pacific, Semiconductor Asia Ltd. said.
Automotive external applications are also constantly evolving. Zhu Minghua, director of the electronic technology department of Shanghai Xiaohao Auto Lamp Co., Ltd., has introduced LEDs for brake lights, taillights, turn signals, reversing lights, high-position brake lights, etc. The taillights also have a large application of high brake lights. As a vehicle headlamp illumination, due to the need for high-power LEDs, it is subject to technology and LED cost-effectiveness, especially in the fields of optics, electronic control, and thermal management. It takes three to five years for the industry to become popular. It is also only available on some luxury high-end models.
Zhu Minghua believes that in addition to the current application of taillights, high-position brake lights, etc., future turning lights, reversing lights will also use LEDs on a large scale. In 2010, the market size of domestic LED automotive lamps may exceed 1 billion yuan, and an annual output value of 3 billion yuan may be formed within 5 years. Zhong Jiecong said that according to iSuppli's "2010 LED Special Report" released in 2009, it is estimated that by 2013, about 95% of new cars in the world will use LEDs in one or more taillights.
At present, the sales of LED automotive lighting application market is about 10% annual growth rate, but the proportion of domestic LED automotive lamps is not high. Zhu Minghua said that the models with relatively large LED usage are concentrated in the mid- to high-end auto companies, and these auto companies generally have restrictions on the LED brand, and domestic LED companies are more difficult to enter their supply chain. In addition, compared with international famous brands, domestic LEDs may have more problems in terms of life and uniformity of sorting. At the same time, the market regulation of auto lamps itself is strict, the threshold is relatively high, and automobiles are sold as luxury consumer goods. For one-to-one customers, any quality problems will cause complaints. Domestic LEDs have no chance to go through this market for a long time, and it is difficult to meet the LED standards for vehicles. "Automotive lamps are very professional fields. It is necessary to do LED car lamps. Whether it is car lamps or LED companies, it is very difficult to go it alone. It is necessary for car lamps companies to fully communicate with LED companies, especially in LED cars. The development of headlights." Zhu Minghua said.
For the development of LED automotive lamps, Zhong Jiecong believes that off-vehicle applications such as taillights, high-position brake lights, turn signals, side lights, low beam lights and high beam lights require different lumen values. In fact, the lumen value depends on the system efficiency of the optical components used. Therefore, before LEDs become standard headlights, more extensive development of the entire system is required, such as more sophisticated thermal management, optimized high-resolution optics, and electronics for connecting automotive electronic systems.
Although there are still some problems to be solved, LEDs have the advantages of small size, vibration resistance, energy saving, long life and the like, and at the same time give designers a broader design space, which are the elements to increase the application of LEDs in and out of the car. With the continuous improvement of product technology and the continuous expansion of product categories, the future of automobiles will develop in the direction of safety and intelligence. Automotive lighting will also be developed in the direction of intelligent lighting systems, artistic lighting products, and green lighting products.

Kara offers a wide range of illuminated and non-illuminated Rocker Switches.In this series,Rated current 6A,10A,16A,Ranging from 1 to 6 poles,with many styles of colors and functions. Certifications include UL, CSA, TUV, CE, and more.
Why choose us?
1)As a manufacture, all of our switch parts are made by our own factory in Ningbo. So, price is competitive.
2)We have our own UL testing lab in Taiwan, so quality can be guaranteed.
3) We can provide you with different types of rotary switches for your selection.
4) Various operating force,height and colour for one switch for your choice.
5) Safety, on-time delivery, excellent quality with competitive price.
6) MOQ: 1000pcs,mixed order acceptable, welcome trial order.
7) OEM and ODM professional design.
8) We can provide free samples for your test.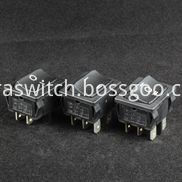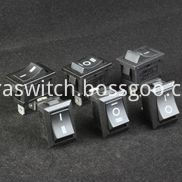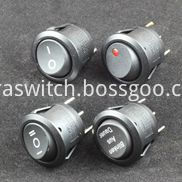 Small-Sized Rocker Switches,Round Rocker Switch,Small Rocker Switch,Mini Rocker Switch
Ningbo Kara Electronic Co.,Ltd. , http://www.kara-switch.com