Recently, Beijing officially released the "2009 China Real Estate Development Enterprise Top 500 Brands of Building Materials Purchasing Preferred Brands". In the list of lighting fixtures, NVC Lighting has been favored by most developers, becoming the first brand of choice for engineering, and Philips ranks second.
NVC rides a dust
At present, real estate development companies mostly use brand brands with great influence. Among them, NVC lighting is selected at the highest frequency of 27.34%, and Philips is selected to have a frequency of 20.31%.
According to the data, the overall score of NVC Lighting ranked first is nearly 7 and 10 percentage points higher than that of Philips and Opp, respectively, indicating the strong preference of brand developers in selecting lighting products.
The top three brands such as NVC Lighting have been selected by real estate developers to account for 65.62% of the total frequency. Among the top ten developers' preferred brands, NVC Lighting and other top three brands account for nearly 90% of the total. .
This shows that developers have a higher concentration in the selection of lighting fixtures. NVC and other giants account for more than 60% of the market share, leading the domestic lighting market consumption, leading the development direction of the lighting industry.
From the regional distribution of the preferred rate of each brand developer, NVC Lighting, Philips and other brands are in the forefront of the region.
According to the research report, developers in various places choose more famous brands with greater influence when choosing lighting products. NVC lighting brand famous brand lighting products variety, good quality, complete products, large choices, excellent brand image can improve the quality and aesthetics of the project, and the deep-rooted brand impression of consumers has become a developer choice An important factor in the brand of lighting.
Strength wins the world
This is the first time that a local Chinese lighting brand has won an award in the "Top Brands of Top 500 Building Materials for Chinese Real Estate Development Enterprises". Before, foreign brands such as Philips and Panasonic occupied the main high-end market in China. In recent years, local brands such as NVC have continuously increased their independent research and development efforts. NVC has set up a research and development center in Huizhou headquarters to build the most advanced high-efficiency lighting products in China. In Shanghai, a light source and electrical research and development center has been established. Focus on research and development of new energy-saving light sources and electrical products, research on cutting-edge technology in the field of lighting; in China, NVC Lighting has also cooperated with universities such as Tsinghua University, Fudan University, and Harbin Institute of Technology to actively promote the integration of production, learning and research in China's lighting industry. At present, NVC has four overseas R&D centers in Hong Kong, the United Kingdom, North America and Australia, and employs a team of expert consultants to study global lighting trends and guide the company's development direction.
In just over a decade, the delivery capacity of NVC Lighting has also been greatly improved. At the beginning of its establishment, NVC Lighting only has two production lines. At present, NVC Lighting has built four production bases (located in Guangdong, Chongqing, Zhejiang and Shanghai, with a total area of ​​1 million square meters). It is the largest production enterprise in the domestic lighting industry. One; has the world's largest production base for energy-saving lamps.
There are efforts to gain. The solid foundation of NVC lighting has risen rapidly and began to compete with foreign brands in the high-end market. In recent years, NVC has won numerous major projects at home and abroad, and has become a lighting equipment supplier for major projects such as the 2008 Beijing Olympic Games, the 2010 Shanghai World Expo, the 2010 Guangzhou Asian Games, and the Shanghai Hongqiao Airport Hub.
At the Shanghai World Expo just opened, NVC's London Zero Carbon Pavilion, which provides lighting equipment, became a highlight of the 2010 Shanghai World Expo. The Zero Carbon Pavilion in London is the first zero carbon dioxide public building in China.
The building uses solar energy, air-conditioning and ground-source heat-coupled air-conditioning, with a total area of ​​2,500 square meters. It has a zero-carbon lecture hall, a zero-carbon restaurant, a zero-carbon showroom and six sets of zero-carbon model houses in a four-storey building. The omnidirectional display of the strategies and methods of the construction field to combat climate change. NVC's products can be used as building materials for the Zero Carbon Pavilion in London, providing solutions that demonstrate that NVC's products are leading the industry in green energy conservation.
Strength speaks for everything. NVC Lighting has gradually opened up a vast world of Chinese local brands in the Chinese lighting market with foreign brands. It has ended the situation that foreign brands dominate China's major engineering lighting market and set an industry model for the rise of China's local lighting brands. NVC's success shows that Chinese local lighting companies can not only do well, but also become excellent and even outstanding companies.
comment:
NVC sample of Chinese local lighting brand
Chinese lighting companies are very fond of the late 1980s. At that time, the lighting market was in the ascendant in China. The Pearl River Delta gathered tens of thousands of lighting companies. In the ancient town of Zhongshan alone, there are as many as 5,000 (unclear or accurate) lighting companies. With tens of thousands of people, the capacity of domestic lighting companies can be supplied to the world.
However, most of these Chinese local enterprises survive by counterfeiting and price wars. Very few OEMs are OEMs for foreign lighting products. In addition to the established multinational lighting companies such as Philips, Osram and Panasonic, which have just entered China, Chinese local lighting companies There is almost no brand awareness and influence; many multinational lighting industry giants occupy most of the mid-to-high-end market, and Chinese local companies are weak and can only seek a place in the low-end market.
NVC Lighting, which was only created at the end of 1998, has no advantage in terms of capital, technology, talents, brands, etc., except for one pride. However, Wu Changjiang, the founder and president of NVC Lighting, proposed the famous "brand theory" of China's lighting industry through his early experience in the lighting industry: since many domestic manufacturers are able to OEM for European top companies. Production shows that China's lighting industry does not lack good products, and the lack of good brands; the era of self-owned brands can easily make money will pass, the market structure of China's lighting industry will change from product competition to brand competition in the next few years. .
Based on the above-mentioned cognition, Wu Changjiang has set a "create a world brand and strive for the industry first" for the newly born NVC Lighting, and to build a strategic goal of a well-known brand in the industry in 3 to 5 years. Wu Changjiang feels that the fate of his own business cannot be in the hands of others.
At the time, everyone thought it was an idiotic dream.
In fact, NVC only completed the construction of well-known brands in the industry in 4 years. In 1999, it proposed the concept of commercial lighting. In 2001, it opened a lighting store and quickly occupied the market through precise market positioning. In 2002, NVC proposed to develop Invisible sales channels. In another five years, it has become a veritable industry leader. From 2006 to 2008, NVC sales still maintained an annual growth rate of more than 50%.
After 2004, NVC Lighting, which aims to build its own brand, was frequently exhibited at large-scale lighting exhibitions at home and abroad. In June 2004, at the Guangzhou Guangya Exhibition, the world's second largest lighting exhibition, the "NVC" logo hanging on the NVC booth was quite eye-catching. Many visitors even mistakenly thought it was a Foreign high-end brands.
Having your own business does not mean having your own brand. NVC has created a brand new brand image of "NVC" through differentiation, and distinguishes itself from other low-end brands. Due to the novel brand image and the influence on consumers, "NVC" and some old Chinese lighting companies have opened the gap.
At the end of 2004, NVC further refined the image of "NVC" and positioned it as "light environment expert".
Since 2006, NVC has introduced international investment such as Softbank and Goldman Sachs. NVC Lighting has become a recognized Chinese lighting leader with international potential.
In addition to adhering to the brand road, NVC also vigorously carries out technological innovation, implements international marketing, actively participates in global competition, and constructs brands with global influence. Now, NVC is moving towards "creating a world brand".
The development of NVC Lighting for more than 10 years represents the development of China's lighting industry. NVC Lighting has ended the history of foreign brands monopolizing lighting products of major engineering projects in China and even the world. It is a typical example of the rise of Chinese local lighting companies and the development of China's lighting industry. The witness of the growth is the benchmark and vane of Chinese lighting companies.

Led Guardrail Light barrier lights on the LED light source, there are red,yellow,green,blue,white,purple,green or colorful color, such as by microchip control, which can realize the gradient, jump, color flashing, random, alternating gradient, chase, scan flow such as color change.
It is especially suitable for the application of the billboard background, overpass bridge, river, lake guardrail, building outline and other large dynamic light belts, which can produce a rainbow gorgeous effect.The outline of the building is decorated with a guardrail, which can accentuate the effect of beautifying buildings.It has turned out to be one of the best lighting products in the world.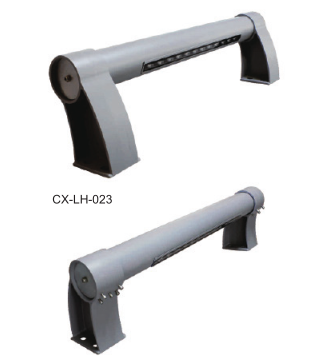 Product size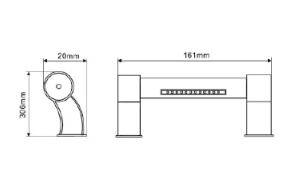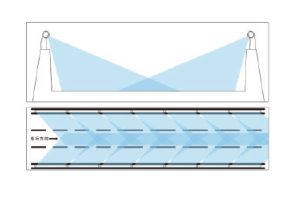 Description of products
1.The lamp uses radiant heat dissipation structure design, can let lamps and lanterns have better heat dissipation effect.
2.Meet the protection requirement of IP65, pass national lamps and lanterns quality detection center detection.
3.High strength tempered glass, transparent and uniform.
4.Adopt ACC12 die casting aluminum and surface is processed by process
5.The high purity acrylic optical lens improves the luminous efficiency and ensures the output of luminous flux.
6.The luminaire implements 256 gray scale, 16.7 million R/G/B synthetic color changes.
Led Guardrail Light,Led Wall Washer Light Fixtures,Led Wall Washer Flood Light ,Led Wall Washer Light Products
Jiangsu chengxu Electric Group Co., Ltd , http://www.chengxulighting.com